AND THE COST TO YOU IS JUST 10% OF YOUR CLIENT PURCHASE!

Watch The Below Video To Learn How This Sales Juggernaut Can Work For Your Business!
With the Coronavirus having a devastating economic impact, many business owners are desperately searching for a winning "client attraction marketing concept" that's easy to run.
Well now you can stop looking, as nothing matches "fuel discounts" as a customer magnet...and this is a done-for-you promotional package where you don't have to lift a finger.
Fuel discounts are an evergreen customer drawcard - just ask Woolworths and Coles!
The Coronavirus Effect Means
Times Are Tough And It's Getting Harder and Harder To Attract Customers, Isn't It?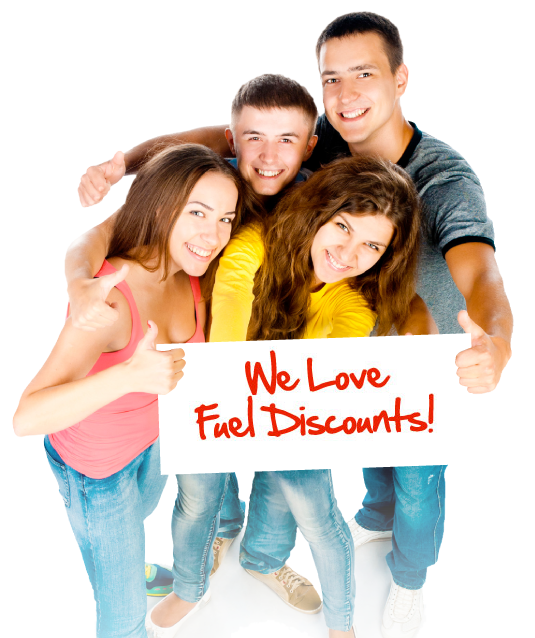 As a result of the "virus environment," businesses are scrambling to find the "magic pill" for increasing revenue.
"Price discounting" has become rampant and therefore profit margins for many businesses have shrunk dramatically.
If you're a business owner or manager, you know you need to look for a marketing idea which distinguishes YOU from your competitors and stops you from the temptation of dropping prices and losing margin.
Well here's the best news you've ever heard – you can offer your clients unbelievable fuel discounts in return for buying your products or services – 10c, 20c, 50c and even $1 per litre discount – and it will only cost you a maximum of 10% of your sale price!
Yep, we're talking about turning a lame 10% discount into an adult Happy Meal Toy on steroids!
You Can Make The Supermarket Discounts Look Lame!
It's a fact that fuel discounts work – they are a massive customer drawcard and that's why the major supermarkets have been exploiting this promotional concept since 1996.
Guess what………. all the hard work has already been done for you – the major supermarkets have spent a fortune educating consumers about the value of "fuel discounts".
So NOW'S the time for YOU to jump onboard this bullet-train & use a "turbocharged version" of fuel discounts as an incredible sales stimulus for YOUR BUSINESS!
If consumers have gone nuts over a modest "4c per litre" deal, CAN YOU IMAGINE THE REACTION YOU'LL GET TO A 10c, 20c, 50c OR EVEN $1 PER LITRE DISCOUNT OFFER!
Yep, the term "insane" comes to mind…….& remember, it's a "DONE-FOR-YOU" program where you "set & forget".
"How On Earth Can I Give Such Fuel Discounts And The Cost To Me Is Equivalent To A 10% Discount?"
Fair question – and that's what makes this customer drawcard so unique.
You are able to enjoy an "Elvis found headline" and yet the cost of the fuel discounts to you is a miniscule percentage of your customers spend!
If we do say so ourselves, it's a very clever customer incentive that is easy to run and a dynamite revenue stimulant!
Here's how it works for both online and offline businesses:
For every $50 someone spends with you in the one transaction, you provide them with a Fuel Savings Voucher.
So if they spend $100 in the same transaction, they get 2 vouchers, if they spend $150 in the one transaction, they get 3 vouchers…and so forth.
If you're making sales online, we provide you with an email template that you send to the purchaser, inviting them to click a link for their digital voucher/s.
SPEND $50 & GET 1 VOUCHER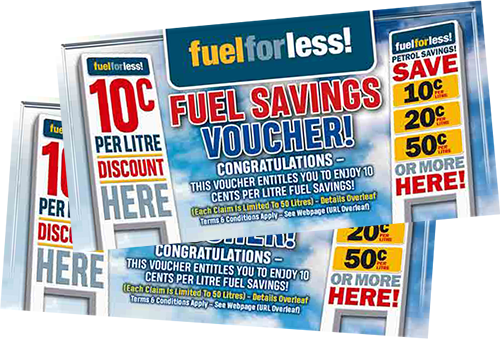 SPEND $1o0 & GET 2 VOUCHERs
Your customer is invited to register their "Fuel Savings Voucher" by visiting the webpage shown on the voucher and submitting their details and unique code.
Each registered voucher provides your customer with 10c per litre fuel rebate x maximum of 50 litres.
(The cost to you is $5, being just 10% of the $50 they've spent.)
Your client simply registers their "Unique Code" online.
Your customers get their fuel from any petrol station and simply keep their receipt.
Your customer then simply redeems their fuel discount online through Facebook Messenger, where we deposit their rebate directly into their bank account.
See in Point 4 below the simple redemption process, were your customers simply click a camera icon & photograph their fuel receipt.
(You simply deposit units of $500 into your Fuel For Less Kitty and when the balance gets under $100, we automatically notify you to top up your kitty with as much as you like, in $500 units.)
If you sell a larger ticket item over say $3,000, we'll provide you with PDF's of an A4 size Vouchers Certificate.
Because of the larger number of Vouchers your customer would be eligible for in the case of larger ticket purchases, you can combine all of them in this one larger Voucher.
For example, if you sold a $5,000 item, the customer would be eligible for 100 Fuel Savings Vouchers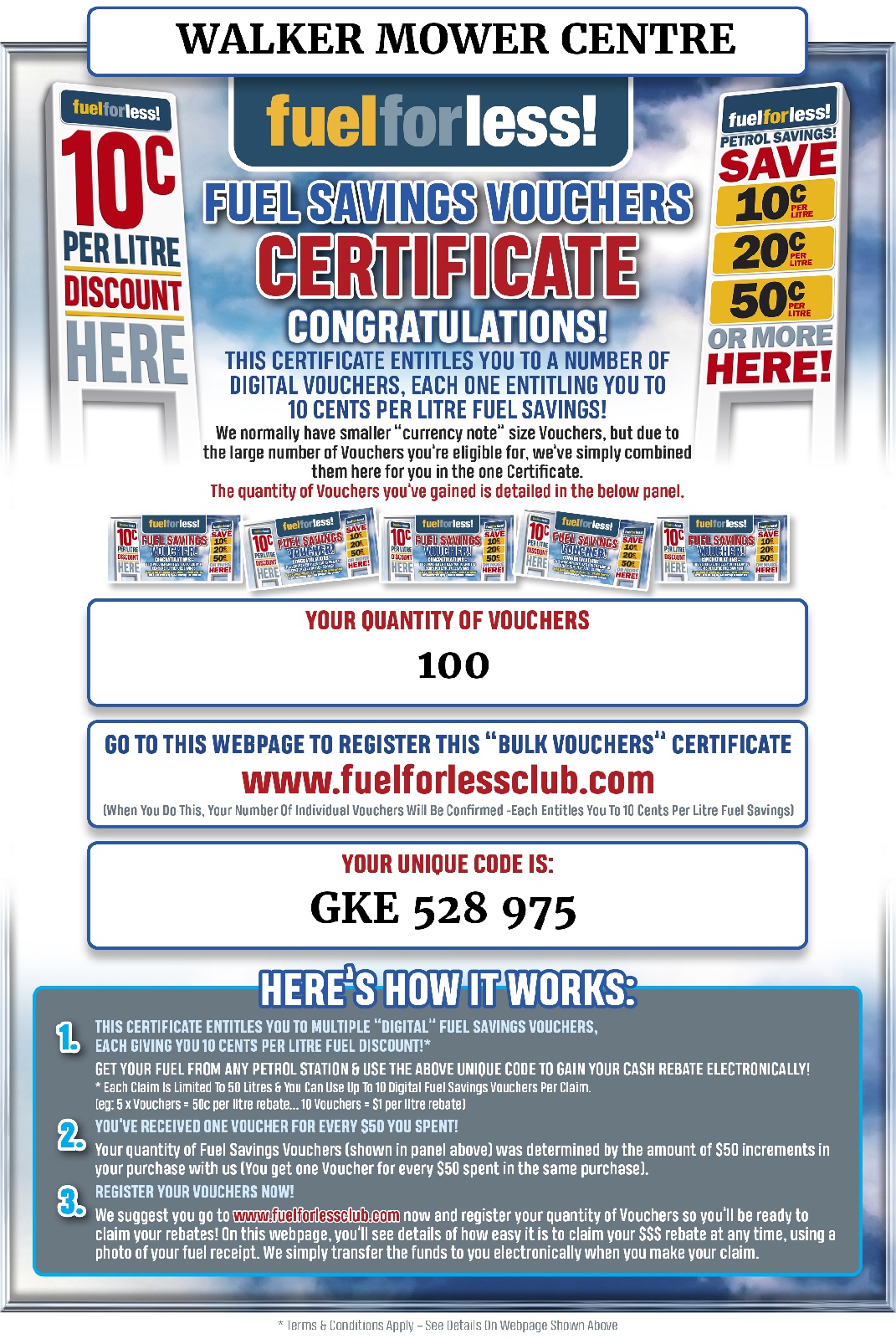 See Here How Simple The $$$ Fuel Rebate Process Is!
We know you're way too busy to get involved in giving cash back to your customers – so we've looked after the rebate process for you.
This short 3 minute video showcases how your clients will be able to easily use a photo of their fuel receipt to claim their rebate.
Everything's done online & the procedure is smooth & fast, where the money is transferred into your client's bank account or paid by PayPal.
License Fee Just $825 Per Month
( License Period 6 Months = $4,950)
Ask yourself if you've ever seen a potential "sales juggernaut" like this for such an affordable investment!
For around $190 per week investment (that's about $27 a day!), you can gain the license to run this promotion & hopefully:
a) Attract an avalanche of new customers who can't believe their eyes when they see the "free incentive" you are providing.
b) Stimulate loyalty by enticing customers to spend with you more regularly.
This Fuel For Less promotion is available via a 6 month license and for offline businesses (bricks and mortar), we provide "business-type postcode exclusivity".
Ask about this when you contact us.
2 Postcodes Exclusivity
For Offline Businesses...For 6 Months
This Fuel For Less Promotion is available via a 6 month License.
And for many bricks n mortar businesses, we can offer "postcode exclusivity" per business-type.
This means the promotion IS EVEN MORE VALUABLE to you if your business falls into such a "bricks n mortar" category – as your local competitors can't possibly match your "client-attraction" strategy.
For example, if you happen to own "a Butchery business", you can enjoy a 2 postcode exclusivity – meaning no other "Butchery retailer" in your postcode can get a license for the promotion.
Other examples might be a café, car dealership, delicatessen, home entertainment or liquor store…….just to name a few.
(Understandably such a bonus isn't practical for "online businesses")
Enjoy The Comfort Of Knowing You Have "Exclusivity" Within Your Postcode!
This Effectively Means That You Have "A Silver Bullet" That No Competitors Can Copy!
(Let's Face It – It's Not Often That You Can Have THIS Level Of "Competitive Advantage!")
GET FINANCE FOR YOUR FUEL DISCOUNT PACKAGED PROMOTION!
BUILD SALES NOW – PAY LATER!
Repayments Of A 2 Year Loan Start At Just $56 Per Week!
We've partnered with a finance brokerage Lifestyle Finance Aus Pty Ltd and they specialise in creating the best finance deals tailored to your personal needs.
We know cashflow can sometimes be a challenge, so if you'd love to run this incredible FUEL DISCOUNT customer drawcard promotion, but might not have the cash, here's the easy and simple solution.
We provide the Fuel For Less promotion via a 6 month license for $4,950
All you have to do is have a quick chat with our friends at Lifestyle Finance Aus and they'll likely find a finance solution that works for your budget.*
It's that simple, they do all the heavy lifting for you.
Repayments Start As Low As These Figures!
✔️2 YEAR FINANCE OPTION: $56 per week*
✔️3 YEAR FINANCE OPTION: $40 per week*
✔️5 YEAR FINANCE OPTION: $27 per week*
So now nothing is stopping you from enjoying the benefits of what we believe is the most powerful customer drawcard on the planet!
*Subject to approval of course. Please note all listed repayments are estimate only and will vary from customer to customer depending on your finance profile. Interest, fees and charges may apply and vary from lender to lender. You can also pay the finance out early and save money. Our friends at Lifestyle Finance Aus will take you through all of this in your chat with them.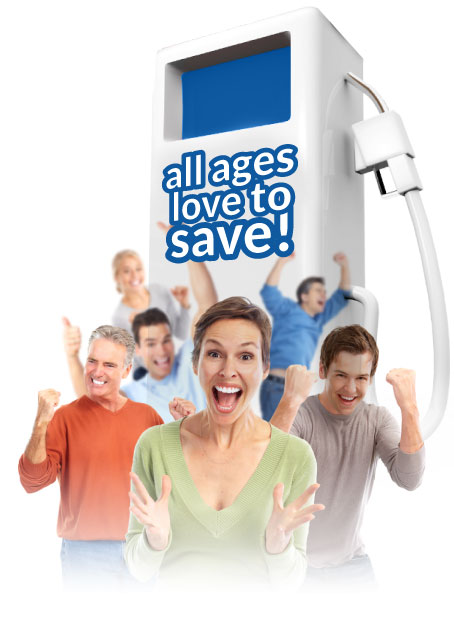 Why Are Fuel Discounts So Appealing?
Because fuel is a universally appealing bonus – everyone needs petrol for their car and everyone hates paying the exorbitant prices we see at the pump everyday.
More Popular Than Flybuys!
A recent Macquarie University study concluded that Supermarket Fuel Discount Dockets had achieved a greater usage penetration in the Australian market than any other customer loyalty program! (In other words, the Fuel Discount Dockets are more popular than the Flybuys Program!)
So this is your chance to stand out from your competitors by launching an already proven promotional concept that has mass appeal across all demographics!
WE GIVE YOU FACEBOOK AD TEMPLATES, A LANDING PAGE, A PROMOTIONAL PANEL FOR YOUR WEBSITE – & ACCESS TO STUNNING DISPLAY MATERIAL!
We've gone out of our way to make this incredible promotion "DONE-FOR-YOU."
We know you're busy running your business so we've created "wow factor" advertising resources to ensure that this FUEL DISCOUNT incentive really pops!
Enjoy having access to a webpage banner, suitable to feature on your website homepage.
The panel can be used anywhere on your page, providing details on HOW the fuel bonus works!
Makes it easy for your prospective clients to understand everything!
If you're a bricks and mortar business, this artwork for pull-up banners will be a real asset.
Such banners are a great advertising tool for retail, services or hospitality businesses.
And you have two options to choose from – each explaining how the promotion works.
You might like to print some DL Explanation Flyers to give prospects & customers.
Always a good idea to have a brochure with details, as it's an easy way to answer any questions.
This DL brochure artwork allows you to add your own "Business ID" & explains the concept in a straightforward 1,2,3 process!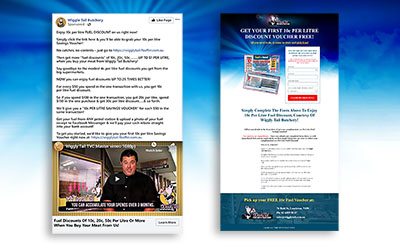 Facebook Ads & Landing Pages
Remember, you get 1 month's Facebook Ad Management with the promotional package.
So we'll be giving you some options to choose from in terms of the FB Advertisements & related Landing Pages.
This incredible "fuel discount promotion" is built for Facebook advertising!
This Butcher Increased His Annual Sales From $3 Million To Over $4 Million Because Of The Fuel Discount Promotion!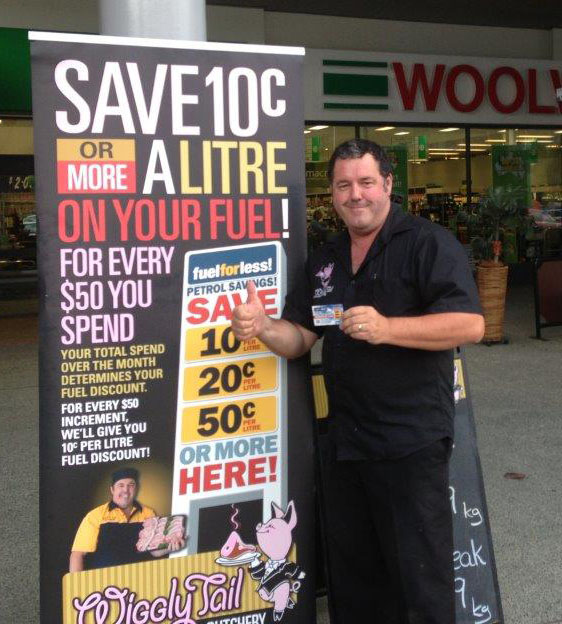 Kerry Buttsworth is an experienced butcher who has been battling the big supermarket chains for decades, as his stores are within a stone's throw of Woolworths.
His only promotional option for the past 20 years has been to "discount."
Not anymore!
Using the Fuel For Less customer incentive, his annual sales skyrocketed from $3 Million to $4.2 Million!
He says, "This is the most incredible sales juggernaut I have ever seen and it has completely revolutionised our business. It's a lead generator, conversion tool and loyalty program all in one!"
And the other bonus for this business is the 10,000 database collected, that Kerry can now market to via text and email whenever he wants!
See What This Ecstatic Butcher Has To Say About This Extraordinary Promotion!
Clever Use Of Facebook Ads To Attract Customers!
You'll see below how you can cleverly use Facebook advertising to communicate your incredible offer.
And you can use Facebook ads to also collect a database of warm prospects – see in this example where people are invited to click the ad to redeem their first "10c Savings Voucher".
When they click the ad, they go to a Landing page where they provide their details in order to get their free bonus of the "10c per litre fuel discount".
When they complete their details & submit, they receive a digital "10c Per Litre Discount Voucher" & instructions how to claim.
In this instance, Wiggly Tail Butchery collects a valuable database of happy people who have "taste tested" the "10c per litre" savings!
And the other great thing about this "promotional package" is that we also provide you with the first month's Facebook Ad Management "free of charge".
This means you sit back & watch magic happen – like the ad & landing page samples below.
(See details of our Facebook Ad Management & Creative below)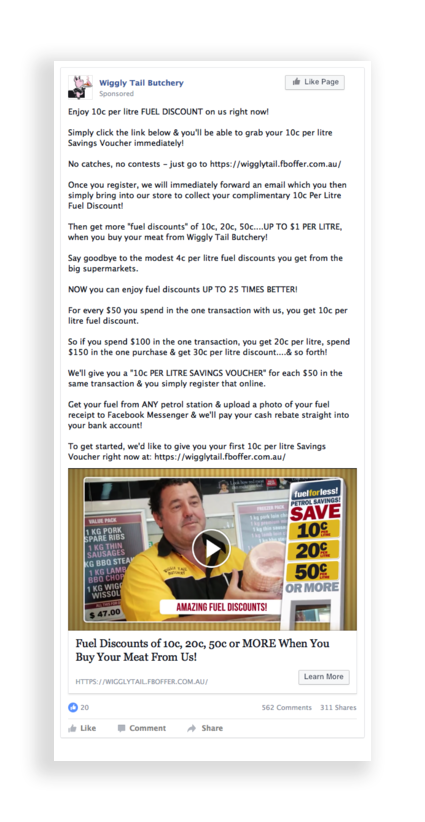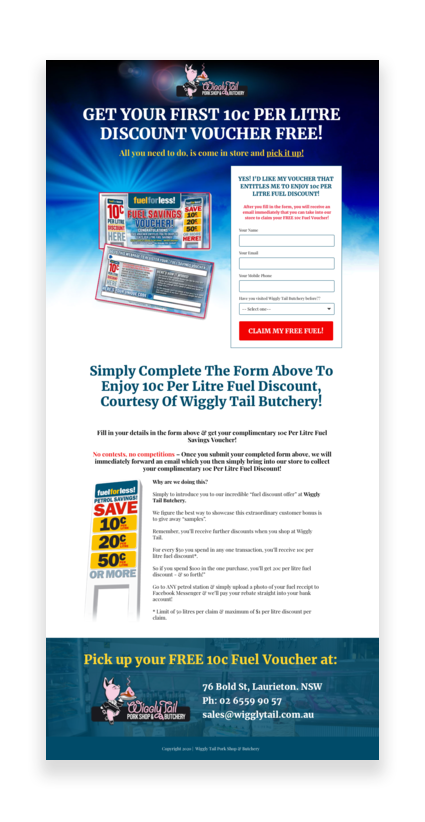 CLICK THE AD ABOVE TO
WATCH THE VIDEO!
See How These Various Businesses Smashed Sales Records With This Promotion!
"When one can offer fuel discounts that are 3, 4 and even 20 times more than Woolworths or Coles, you're cooking with gas, that's for sure!"
Blake Thompson – Gold Coast Nursery
This incredible fuel discount promotion makes me stand out from any competitor – I think it's brilliant!"
Matt Blannin – Scapes Landscaping and Gardening Services
"It's sensational when one I have my clients phoning us to remind me that their pool needs cleaning, because they're after their next fuel discount. Cant get much better than that!"
Max Walker – The Pool Van Cleaning Service
"If I was to run a 10% discount promotion, no one would care. Whereas this fuel savings concept costs me just 10% of my sale but has skyrocketed my business revenue!"
Deiter Kilimann - Gold Coast Carpet Cleaning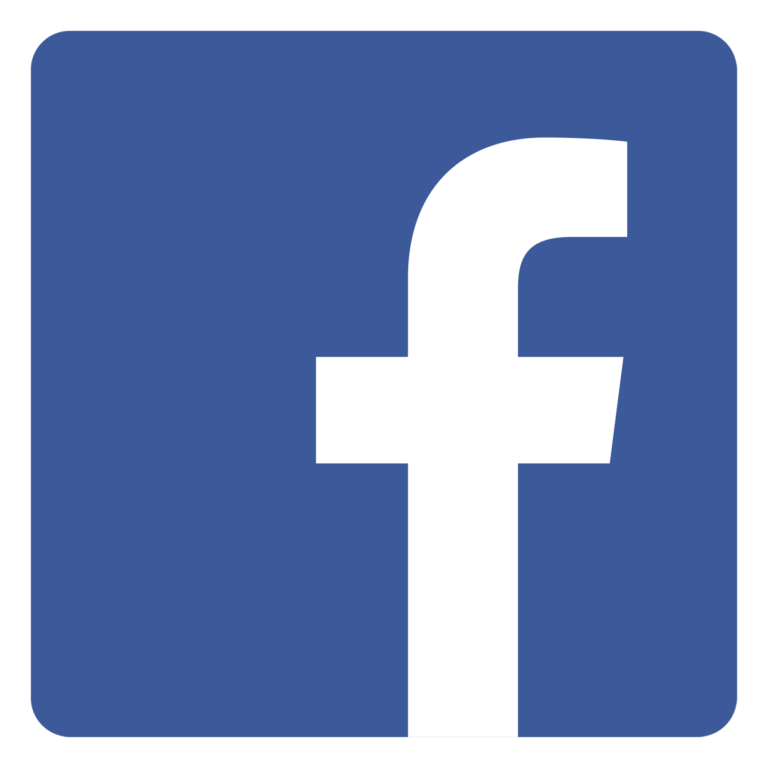 LIMITED TIME | SPECIAL OFFER
ONE MONTH FREE FACEBOOK AD MANAGEMENT!
We will also help you launch this juggernaut promotion by providing you with ONE MONTH'S COMPLIMENTARY FACEBOOK AD MANAGEMENT!
In other words, we are going to give you FREE Facebook ad creation & strategy for the first month of your "Holiday Promotion", where you get direct personalised service from "our" Facebook Ads GURU!
This is the guy who actually devises & manages OUR OWN Facebook ads – & therefore you'll be gifted with the "brains" behind our OWN FB campaigns! (keeping in mind you've probably responded to one of HIS FB ads to get here!)
So effectively, we're handing over "our FB secret weapon"………the genius strategist who GETS US LEADS with innovative, cutting edge "social media" advertising campaigns!
1) Your ad……all done for you – your copy, graphics, suggested offer.
2) Your Landing Page – where traffic from your ad goes (to see MORE about your offer)
3) Complete management & reporting on your campaign results & ongoing suggestions/liaison throughout the month.
Of course, you need to determine your "daily budget" & pay Facebook for your ads…….but we're throwing in the part that's normally "super expensive" & hard to find……..CLEVER FACEBOOK AD CREATIVE & MANAGEMENT…….for a whole month! So in this difficult "virus trading period", we're delivering not only a proven "client-attraction incentive", but also a proven "social media LEADS MACHINE!"
Don't Pay For The Promotional Package Upfront From Your Own Pocket.
Enjoy "Easy-To-Get Finance"
From $56 Per Week!
Home Loan Lending Records Get Smashed With This Exact Fuel Discount Promotion!
The Greater Building Society broke records when it used this exact promotional incentive to attract new home loan clients.
Watch the TV commercials below & you'll see how clever the campaign was – "clever but really simple!"
People were invited to swap their home loan to the Greater Building Society & receive 10 cents per litre fuel discount EACH WEEK FOR AN ENTIRE YEAR!
Of course the perception of most people was "OMG, what an incredible bonus!"
But let's do the maths – 10 cents x 50 litres each week = $5 per week.
When you calculate $5 x 52 weeks = Total Annual Cost Of $260.
As a comparison, banks normally pay Mortgage Brokers 1% of the loan amount when they bring a home loan client to the table.
So a typical loan of $500,000 would cost the bank around $5,000.
In THIS case, the Greater's "fuel discounts for a year" incentive had a maximum exposure of just $260!
And guess what………..the offer resulted in an avalanche of new home loan clients & broke records!
"Perception is reality"……..& this goes to show "fuel discounts" can be a turbocharged incentive (& low cost) for ANY business!

Watch These
Impactful TV Ads!
The Most Powerful Customer
Drawcard Ever Devised
So there you have it – a DONE-FOR-YOU jaw dropping client attraction program that will leave your competitors in the dust!
Can you imagine the reaction from your prospects when they learn that they can enjoy fuel discounts up to $1 per litre!
There's a reason why the major supermarket chains have been running a fuel discount incentive from 1996….it works!
Think about this…Woolworths and Coles are capped at offering "4c per litre."
You are now able to offer up to 25 x that!
Why, because you can give 10c fuel discount for every $50 someone spends in the one transaction…… that means if they spend $500 in one transaction, they would get 10 Fuel Savings Vouchers…… and if they used all of them at the same time for a fuel rebate, they would enjoy $1 per litre discount.
The Institute Of Wow P.O Box 1227 Oxenford QLD 4210 www.theinstituteofwow.com
ABN 53 161 248 755

Enquiries info@theinstituteofwow.com