FREQUENTLY ASKED QUESTIONS
Q: IS THERE A LIMIT TO THE "CENTS PER LITRE" I CAN OFFER?
A: The largest individual discount a client or customer can claim on the one fuel receipt is $1 per litre.
In other words, a person can use a maximum of 10 Fuel Savings Vouchers – with each one entitling them to 10c per litre rebate x a maximum of 50 litres.
So assuming the person uses a fuel receipt for 50 litres or more, they can claim up to $1 per litre rebate.
We've created this "cap" purely for practical reasons.
It means that if someone spends $550 with you in a single purchase, they're eligible to claim $1 per litre discount against one fuel receipt and 10c per litre discount on another fuel receipt.
So they still get their full 10c per litre per $50 entitlement – they simply claim their rebate over 2 fuel receipts.
We've "capped" the "per litre discount" at $1 so that:
1. It's easy for consumers to understand
2. It's easy for you, as a business, to communicate
Q: WILL THE FUEL FOR LESS PROGRAM HELP ME BUILD A DATABASE?
A: One of the big benefits of this fuel discount concept is that because customers need to register their personal details in order to claim their fuel discount rebates, you'll be quickly collecting a valuable database!
A butchery client in regional NSW collected over 10,000 names & contact details in under 12 months & is now benefitting from being able to contact these customers regularly via email & SMS.
Whenever he wants to quickly stimulate trade, he simply sends out an "offer" by SMS or email to some or all of his list.
Q: I'M A BRICKS & MORTAR BUSINESS & WANT TO KNOW IF YOU'D MAKE THE FUEL FOR LESS PROGRAM AVAILABLE TO "OTHER SIMILAR" BUSINESSES NEAR ME AFTER I SIGN UP?
A: Definitely not!
If you're a brick & mortar business, we offer exclusivity for each "industry-type" on a 2 postcode basis.
In other words, if you're a bakery & you invest in our FFL License, you get "exclusivity" for the "bakery industry" FOR 2 postcodes chosen by you.
No other baker can use the Fuel For Less Program in your 2 selected postcodes.
It's yet another way of us helping you to get the most out of this "sales dynamo."
*You can gain the FFL License for extra multiple postcodes – just ask for details when you enquire.
Q: CAN I ADJUST THE "REQUIRED SPEND" FOR FUEL SAVINGS VOUCHERS?
A: Yes, if you wanted to.
We've chosen $50 as the recommended required spend to get one "Fuel Savings Voucher" – because the maths is easy & the fuel rebate is costing you just 10% of the customer's spend.
But if you wanted to for example, devote just 5% of your sale to the fuel savings bonus, you can adjust the "spend requirement" to $100 in one transaction.
Although we'd normally recommend against using less than a 10% discount analogy, we understand that perhaps with BIG TICKET LINES such as a car or boat, you might feel more comfortable using a 5% discount rationale.
The reality is that the "fuel discount bonus" is only costing you whatever percentage of your sale you wish to devote to the program (ie: 5% or 10% for example).
You simply tell us what percentage of your sale price you wish to devote to the fuel discount system and we'll help you structure your sales message.
Q: DO MY CUSTOMERS/CLIENTS HAVE TO GET THEIR FUEL FROM SPECIFIC PETROL STATIONS?
A: No they don't.
One of the fantastic features of our Fuel For Less client attraction program is that the whole process is so easy for your customers.
Unlike the supermarket fuel discount programs (which are now capped at 4 cents per litre discount!), customers can go to any fuel outlet they want.
They don't need to specifically go to Caltex, Shell, BP or any other brand.
They can go to the local non-branded fuel outlet down the road if they want to.
This means that your customers can enjoy the flexibility of being able to get their fuel from an outlet that they may have a long-standing relationship with and still enjoy the fuel discount you are offering!
Q: WHAT HAPPENS IF MY CUSTOMER HAS A FUEL RECEIPT FOR MORE THAN 50 LITRES?
A: Your customers discount claim is always limited to 50 litres.
Therefore, if your customer lodges a fuel docket with 65 litres, the Fuel For Less system calculates their refund based on 50 litres and not the 65 litres on the fuel receipt.
Alternatively, if your customer lodges a claim using a fuel receipt with less than 50 litres then FFL calculates the claim based on the exact number of litres on the fuel docket.
For example, if Mr Brown is entitled to a 10 cent per litre claim and lodges a fuel receipt with 43 litres recorded on the docket, his reimbursement would be limited to $4.30 (43 litres x 10 cents) and not the maximum possible claim of $5 (50 litres x 10 cents).
Q: HOW DO I PROMOTE MY FUEL SAVINGS PROGRAM?
A: It should be noted that the Fuel For Less team boasts many years in the marketing arena and therefore has developed the fuel discount program as a powerful "direct response" promotion.
Considerable time, money and resources have gone into developing the marketing templates for this customer attraction program.
We have carefully crafted the appropriate wording and graphics of each advertising component.
So when you join the program, we recommend that you use the advertising templates we provide.
Additionally, we provide professional, creative support at the start of your promotion, via our Facebook Advertising expert, who will design & execute your Facebook ad campaign.
Social media marketing should be a focus for you with this client-attraction concept.
Q: I'M AN ONLINE BUSINESS, SO HOW DOES IT WORK FOR ME?
A: Easy, you simply email your customers either:
* The Fuel Savings Vouchers (each entitling them to 10c per litre discount x max of 50 litres)
* Or if you sell "higher ticket" goods or services, the A4 size Vouchers Certificate that contains multiple "10c per litre Savings Vouchers".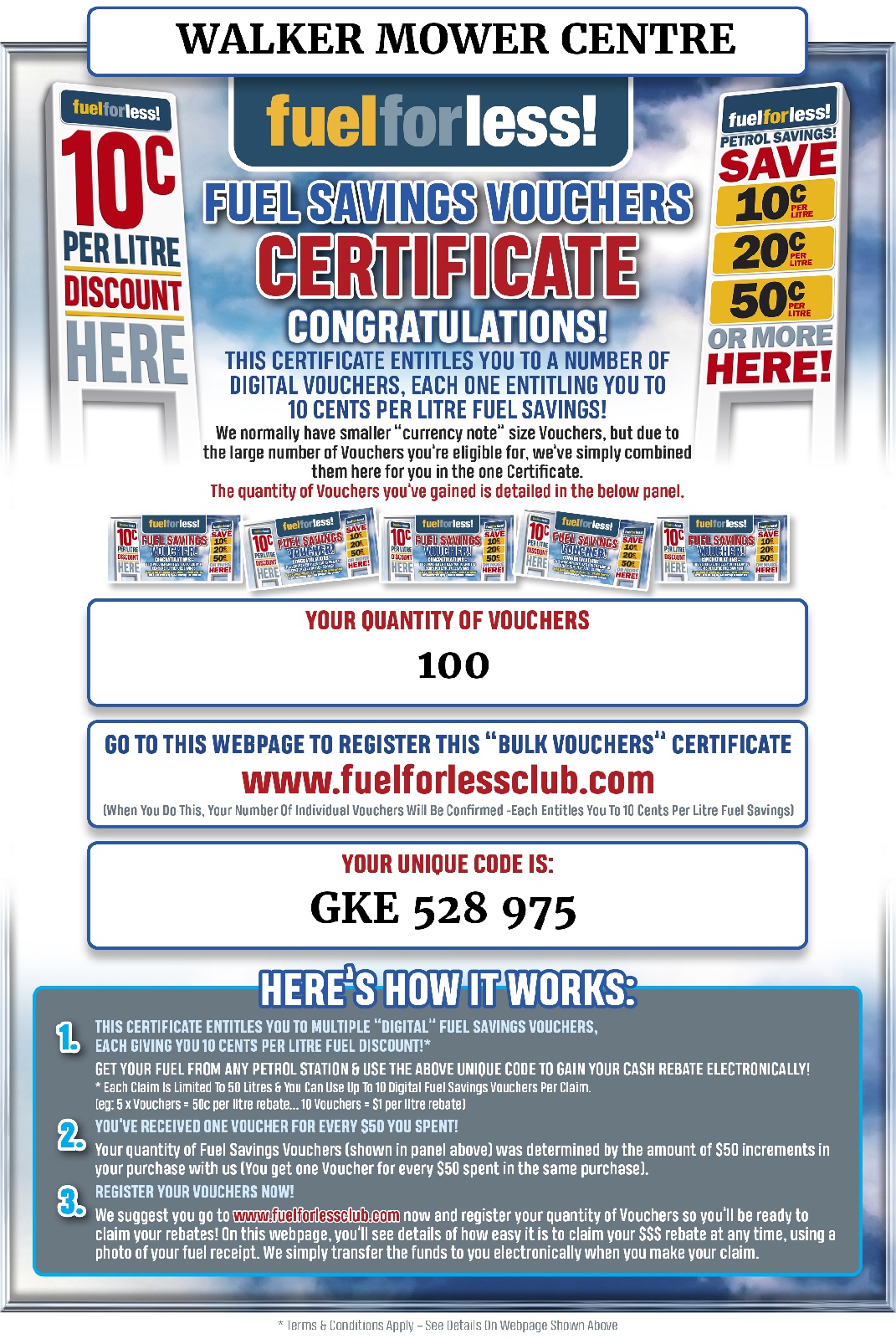 Q: HOW DO MY CUSTOMERS REDEEM THEIR FUEL REBATES?
A: We have a very simple procedure via Facebook Messenger – your customers simply follow an easy step-by-step procedure & the money gets transferred to their bank account or paid via secure PayPal.
Here's a short explanatory video:
Q: WHAT HAPPENS AT THE END OF MY INITIAL 6 MONTH LICENSE PERIOD?
A: At the end of your initial "license period", your membership of our Fuel For Less Program simply reverts to a "monthly subscription of $697".
So you can continue benefitting from the automatic "online redemption process" & utilisation of the program by simply paying a monthly membership subscription – being a modest $697 per month.
As this equates to about $23 a day, we're guessing you agree that continuation of the program is very cost-effective!
Q: WHAT'S THE VALIDITY PERIOD OF THE FUEL SAVINGS VOUCHERS?
A: Whilst you can personally inform your customers of whatever "time-period" you want to give the Vouchers, we recommend that your Vouchers have NO set validity-period.
Rather, we suggest that the Vouchers have an indefinite "use by date".
And should you decide at any time to cease the promotion, we suggest that your "Voucher registrants" get emailed a notification that the promotion is ending & they have 30 days to claim any Vouchers they have stored.
We can provide you with a suggested template for that email.
The Institute Of Wow P.O Box 1227 Oxenford QLD 4210 www.theinstituteofwow.com
ABN 53 161 248 755

Enquiries info@theinstituteofwow.com